There has been a mill here since 1290 when the Lord of the Manor gave permission for John le Gaunt to build a fulling mill. For the next 400 years it was the centre of the woollen industry. In 1740, Lord Berkeley of Bruton rebuilt the present mill building as a woollen factory, and in 1810, Theophilus Percival, a Frenchman, built a new extension to produce silk employing two hundred local women and girls. Silk throwing machines driven by the water-power were used to spin the raw silk thread prior to weaving.
The silk production was relatively short spanning a period of thirty years. In 1856 the mill was acquired by the Lockyer family who used the mill for corn grinding. The main machinery of four pairs of grindstones installed in 1888 is still worked daily to produce animal feedstuffs.
In 2003 a new turbine and electricity generator was installed at Gants Mill, to complement the 1888 Armfield turbine.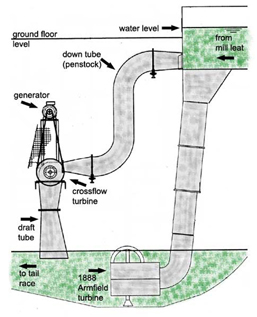 An initiative by South Somerset District Council led to the formation of the South Somerset Hydropower Group, a group of 10 mill owners working together to install electrical generating equipment in their mills. The plant was installed by Hydro Generation Ltd (now Renewables First), and the new turbine was made by Valley Hydro of Cornwall, and the electronic mains connection unit by GP Electronics from Devon. The equipment is designed to produce up to 12 kW of electricity in continuous operation fed into the local grid.
Water source is the river Brue
Image Gallery
References: