The river Cary's source is Park Pond in Castle Cary. The river first feeds the village horse pond before flowing westerly beneath a local inn to Higher Flax Mills where the flow changes to a south westerly direction. In this short distance the river falls almost 30 metres from the source. It continues to Fulford Cross on the outskirts of Castle Cary and follows the line of the road to Cockhill to reach Cockhill Bridge in Lower Cockhill. The journey so far has taken approximately 1.68 miles.
From Cockhill Bridge the river continues south westerly to flow beneath the railway line and on through Cary Moor to the south of Cary Marsh Nature Reserve. Waters from North Barrow Brook join from the south before flowing beneath the road to Lovington. After a short distance the river is joined from the north by first waters from Dry Brook and then Back Brook. It flows through Perry Mead Nature Reserve to the south of Wheathill golf course to reach Perry's Bridge. Total distance covered is now just over 6 miles.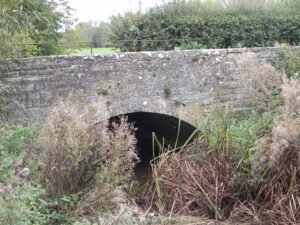 From Perry's Bridge the river takes a southerly direction to Babcary, passing Wimble Toot and the Babcary Meadows Nature Reserve before flowing beneath Garston Bridge. From Garston Bridge the river flows to Cary Fitzpaine before reaching Popple Bridge on the Fosse Way, the main A37 Yeovil to Shepton Mallett Road. The journey from source to Popple Bridge is approximately 11 miles. Now turning west for a short distance before turning north the river passes to the west of Lytes Cary. past Kingsdon Wood to the south of Charlton Mackrell where it turns west to arrive at Cary Bridge on the outskirts of Somerton. The straightline distance to Cary Bridge from source is a little over 9 miles but due to the rivers meanders the river distance is approximately 15.5 miles.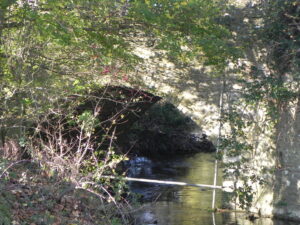 A short distance from Cary Bridge the river flows beneath the Somerton Viaduct, a five arch structure built between 1903 and 1906 to carry the Great Western Railway's London to Taunton line. The river continues past the Somerton fish ponds before turning north to flow in a westerly direction through East Moor to Etsome Bridge. Continuing generally westerly the river passes through Somerton Moor, flowing beneath Somerton Door Bridge, Pitney Steart Bridge, Broadacre Bridge, and Low Ham Bridge before reaching Henley Corner having now travelled a distance of approximately 21 miles from source.
At Henley Corner the river flows into the King's Sedgemoor Drain constructed in the 1790's to improve the drainage of King's Sedgemoor. The drain flows in straight channels to reach the River Parrett at Dunball.
The course of the Old River Cary flows southwest from Henley Corner through the levels to Beer Door.
Image Gallery River Map Structures