Rises in Great Holwell at an elevation of 180 metres flowing in a north easterly direction through Holwell Coombe, additional headwaters join near Lower Blaxhold. Then flowing below Pightly Covert it turns to the east and flows to the north of Barford House and then Roughmoor Wood where waters join from the south that rise near Quantock Farm, a short distance after waters from Pightley join the flow. It flows to the south of Rexworthy Farm and then into Durleigh Reservoir.
Durleigh Reservoir built in 1938 to dam the waters of Durleigh Brook covers approx 80 acres. It provides fishing and sailing facilities.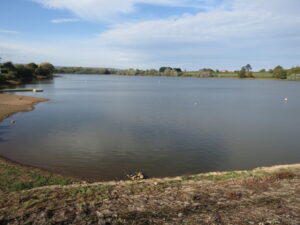 From Durleigh Reservoir the Brook flows to the south of Durleigh and then past Haygrove Farm to flow beneath the Bridgwater & Taunton Canal and then the A39 to join the River Parrett.