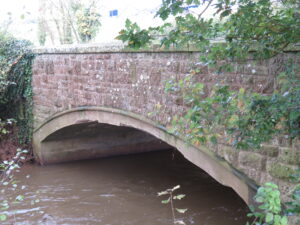 Bridge Name:
Hornshay Bridge
No.:
43
Location:
Build Date:
Current Bridge: 1912
Engineer:
Designed by Edward Stead, when he was Assistant County Surveyor

Description:
Among disbursements for 1668, mention is made of repairs to County Bridges, Hornshay2

The parish of Nynehead was for many years responsible for the repair of the bridge; the churchwarden's accounts of this exist from C16. The maintenance was taken over by the new Milverton Highways Board in the 1860s. In 1876 a notice was erected at the approaches stating 'This bridge is only of sufficient strength to bear the weight of ordinary traffic. Persons causing steam locomotives and traction engines to pass over it will be held responsible for any damage done thereby'

The present bridge was built in 1912. When the old bridge was demolished it was found to be supported by oak piles. Reinforced concrete arch bridge built in 1912 and designed by Edward Stead, when he was Assistant County Surveyor. Copings, stringcourses and quoins are of ashlar masonry with the remainder of the masonry rock faced. The end of the concrete deck is exposed in elevation. The bridge is 26 feet in span.1

References:
1. Somerset HER 19901
2. An Early Portion of the Church Warden's accounts of All Saints, Nynehead (1668- 1684).BY W. DE C. PRIDEAUX, L.D.S. ENG., F.R.S.M.